It complies with EN149: 2001 standard + A1:2009 of (EU) Regulation 2016/425 and CE certified by the notified body 2163. 
Dimensions: 160x125 mm
Brand: FILTECH
Model: F890
With elastic bands for the adjustment to the head.
Not reusable.
Useful life: a working day of approximately 8 hours.
Manufacturer: Hangzhou Filtech Intelligent Co., Ltd. China.
Composition:
These masks are made up of 6 layers with the composition and weight reflected in the following drawing: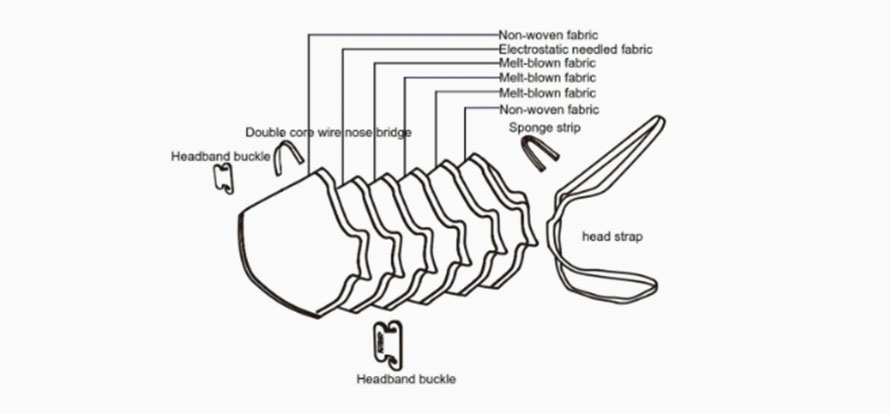 Classification: FFP3 NR
It is a category III personal protective equipment (PPE).
Storage conditions: Temperature (-20 ℃ ~ + 40 ℃), humidity (< 80%), avoid direct sun.
This mask model is certified in the European Union by the notified body 2163 Universal Certification and Surveillance Service Trade Ltd. Co. The said notified body belongs to NANDO base of the European Union.
This link indicates that the notified body is entitled to issue certificates of conformity for individual respiratory protective elements, under the guidelines of the European Regulation 2016/425 on Personal Protective Equipment.
The website of this notified body demonstrates the veracity of the B module certificate, which verifies the characteristics and quality of the masks (2163-PPE-1219) and the veracity of the C2 module certificate, which verifies the quality and homogeneity in the manufacturer's production line (2163-PPE-1219/01).
http://www.universalcert.com/en/document-interview/
http://www.universalcert.com/en/document-interview/%98%AA%F3F%93%9B%95%2A%BFF_%A4%D6%AA0%D06%C0%29%FB%B4p%93+#
http://www.universalcert.com/en/document-interview/%98%AA%F3F%93%9B%95%2A%B1%B1%BEc%B6%AB7%EC%F9%12Yu%C2o%7C%13#